Casa Maya
706 Central Park Avenue
Scarsdale, NY 10583 (Map it!)
Attendees: Sylvia, Jeffrey, Shelley and friends
What do you eat for breakfast in Mexico? According to Casa Maya, whatever you eat for dinner, but add a side of scrambled eggs. We found out from an ad in the Coupon Clipper that Casa Maya served brunch on weekends. One of the coupons offered a free brunch entrée with the purchase of at least two other brunch entrees. Being the breakfast club, we figured we would take advantage and see what a Mexican brunch had to offer.
Brunch is a prix fix affair (or is it precio fijo?), where for a smooth $13.95 you get a soup or salad, an entrée, and a choice between champagne, mimosa, bloody mary, soda, or juice. (Note: On Casa Maya's online menu, the brunch price is listed as $12.95, and most of the drinks listed there were no longer offered on the brunch menu in the restaurant.) There was also a Platinum Brunch available for $20.95 where your drink was unlimited and you get an appetizer and dessert, too. (What is a Mexican Brownie? We still don't know.)
I opted for the regular brunch, with which I had a pineapple juice, chicken soup, and "Maya's Chiaquiles".
The soup was actually pretty hearty. It was a little too salty for my taste, but they were pretty generous with the chicken, veggies and tortilla chips floating around in it.
I can't remember how they described the "Chiaquiles", but I do remember the phrase "slightly corn tortilla" combined with a bunch of other ingredients that I generally like. I did have a choice between sausage or chicken, and I chose chicken. It also was served with beans and scrambled eggs.
According to the all powerful internets, Chiaquiles do not exist, and Google was kind enough to redirect me to search Chilaquiles. This lead me to this entry on Chilaquiles (http://en.wikipedia.org/wiki/Chilaquiles), which describes it as a typical Mexican breakfast or brunch item where corn tortillas are simmered in a salsa until they are soft and then chicken, eggs and whatever is mixed in.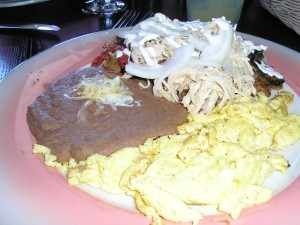 What I tasted, however, was something different. First, there was nothing that tasted or resembled salsa in it. The corn tortilla that was used was the tortilla chips they give you when you sit down. There was an overwhelming tangy taste to the meal. So much so, it was off putting. I was lucky enough to get just a few small bites where it was not so tangy, and those bites were really good. But that overwhelming tang killed it for me. It tasted like either there was too much lemon or lime squeezed into it, or I shouldn't be eating it because tang is what happens to old food. The sour cream was simply drizzled on top and there wasn't enough. The refried beans were okay, but the cheese on top was just a pinch, and looked like it had been sitting there for a bit and had cooled off and congealed a bit. The eggs looked over-scrambled, but were surprisingly good, and not too dry. It could be a hearty breakfast, and I'd love to try again, but the chef needs to practice a little restraint on that citrus addition.
To make a tolerably bad meal into something worse (chefs make mistakes), the service was terrible. On our coupon, nowhere did it say it was a "cash only" offer. Some of the other coupons specified cash only, but the one we used did not. So I was surprised when our waiter took our coupon to what seemed like the manager to ask if we can use it, only to come back and tell me cash only. Thanks for the warning. Then, to make matters worse, when we got our bill, they only reduced $10.60 from the total. Brunch was $13.95, why only $10.60? Not that I wanted to haggle over a coupon, but if it was what got me into the door, might as well honor it, or don't offer it to begin with.
Then, we had to deal with the overcharging of Shelley's meal, since apparently the lunch menu on the back of the brunch menu is not valid on weekends. Thanks for letting us know. I guess many of their patrons who come in at noon on weekends (which, by the looks of it, were not many) like to order off the dinner menu. Who knows? I know I love an $18 dinner platter at noon on a Saturday. Don't you?
The czar says: Forget it. If you want better Mexican food at a much more reasonable price, go anywhere else. Unless of course, you enjoy the bait and switch game.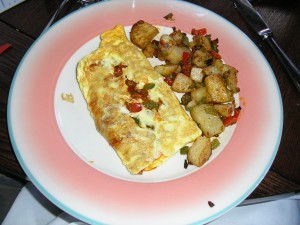 So, our little visit to Casa Maya was an interesting one to say the least. First, let's get the food review out of the way. I had some omlette that had sausage, peppers, and onions in it. It was served with home fries. The home fries were lack luster and the omlette was more like a pile of stuff. The eggs were flat and the stuff inside was just mush.
Now, on to the service. Apparently, it's incredibly difficult for the staff there to figure out how to rearrange tables outside so that 5 people can sit outside. It's not like the tables are bolted to the ground. Yeah, sure there are umbrellas and they can be difficult to move, but there were free-standing tables that had no umbrellas. It was just pure laziness.
Next is the menu. If you don't serve lunch on the weekends, why have the lunch menu on the back of the weekend brunch menu? There's no indication on the menu that lunch isn't served on the weekend. It's not on the website and it's not on the menu, anywhere! So, if you were to order a lunch item, you'd be expected to pay the dinner price. It's like 5 dollars more! We were obviously ordering off the lunch menu when putting in the order but the waiter made no attempt to notify us that the lunch menu wasn't valid on the weekends.
So, the only reason we went to this place is because my sister found a brunch coupon on some flyer for Casa Maya. The flyer had many other coupons on it and a bunch of them said, "Cash Only". The coupon we were using for brunch didn't say anything like that on it, but the people at the restaurant made it clear that they wanted cash only anyway.
This place's breakfast was lousy. The service was even worse. It's another case of a restaurant slapping the word "brunch" on their menu just to try and entice the Westchester Breakfast Club to eat at their establishment.
Sylvia suggested (or more declared) that Casa Maya in Scarsdale would be this week's brunch destination. OK, I thought. We'll continue with the global brunch thing.
After meandering down Central Avenue, I found Casa Maya situated at the end of one of the shopping centers; this one happened to be located next to the A&P.
Here comes strike one against Casa Maya. We asked if we could sit outside. The person seating us said that they don't have tables for five outside. We all glanced outside and I suggested that we could push two tables together. He mumbled something about the umbrellas and showed us to an inside table next to the window. Now, yes, the tables outside did have umbrellas through the center. However, unless the umbrellas were cemented into the ground, pushing two tables together shouldn't be an insurmountable task. Plus, once we were already seated inside, I noticed that outside there was a table for two, with no umbrella. That table could have easily been pushed next to one of the tables for four that did have an umbrella. Seriously, a small child could have done it. Or even Jeff.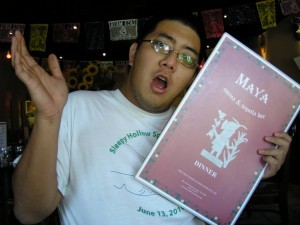 After we were seated at our inside table, we were presented with menus labeled "DINNER". This confused us. It was 12:30 in the afternoon and there was no way I was going to pay close to $20 for my brunch. So, when our waiter returned, we asked for and were brought the brunch menu. Our waiter took the dinner menus away.
Here's where things get more interesting.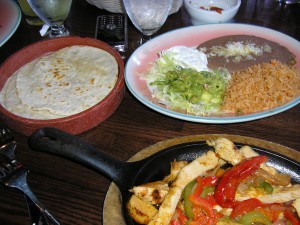 The brunch menu takes up one side and on the reverse side is the lunch menu. On the brunch menu, there's a note that says brunch is served from 11:30am-3pm on Saturdays and Sundays. There is no note specifying any limitations to when lunch is served. Remember that bit of information, people.
The brunch offerings at Casa Maya are mainly standard Mexican dishes served with an egg on the side. For example, chicken fajitas…with some eggs. I couldn't quite bring myself to have eggs with my fajitas, and I wasn't feeling up to full on huevos rancheros, so I ordered plain, ol' chicken fajitas. I was the only one at the table to stray from the brunch menu. After what seemed like a wait that was a bit too long (probably felt longer to me since I was the only one that didn't get an appetizer), our food arrived. For my dish, strips of grilled chicken were marinated in a tomato-based sauce with onions and peppers. (I much prefer restaurants like Santa Fe in Tarrytown that prepare their fajita fixings without marinating them in a sauce. A sauceless fajita for me is the way to go.) I received a generous helping of tortillas and a third plate containing the extras–refried beans, rice, lettuce, sour cream, and guac. The fajitas were fine, worth the price listed on the lunch menu, which was $11.95. (Note: More foreshadowing here!)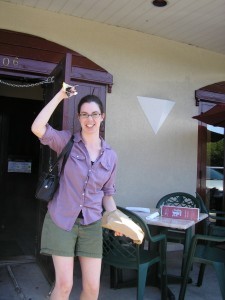 Then came the bill. Snafu number two: We had a coupon that promised a free brunch when 3 or more brunches were ordered. The coupon said maximum value of $13.95. The price listed on the brunch menu for each brunch dish was…$13.95. On our bill, only $10.95 was deducted. That's three whole dollars shy of the full price of a brunch, making what should have been a completely free brunch not completely free. We were going to let this go. Then came snafu number 3: Sylvia told me my fajitas were $16.95. What? Inpossible! I said. The price listed on the lunch menu was $11.95. There was no way I was going to let five bucks slide. Our waiter had disappeared (hiding, perhaps) but when he finally reappeared, probably hoping we had already left our money and exited the establishment, I pointed out this error to him. He said "OK", took the bill, and walked away to where the person I assumed to be the manager was standing. This would be cleared up, I thought to myself as I watched the two men talk. A minute later the waiter returned with the dinner menu and the brunch/lunch menu and said (I'm paraphrasing here): "I brought you the dinner menu first. We only serve brunch on the weekends, not the lunch. So, the price for the fajitas is $16.95." A weak and illogical argument. I argued that the exlusion of the lunch menu on the weekends was not clear at all, and pointed out that nowhere on the lunch side of the menu did it say that the prices applied only on Mondays–Fridays. He shrugged. Since he had already consulted with the manager-type person, I felt that this was going to go nowhere. And I just wanted to leave. I fumed. I slammed my money on the table, threw my chair to the ground, and stormed out screaming.**
So, here's my word of warning, readers: Have a careful eye when you go to restaurants. If you go to a restaurant at lunchtime and they bring you a dinner menu, those are the prices they're pushing. There are some restaurants that have brunch menus and lunch menus that overlap, meaning you could order brunch and lunch at the same time, which is what I assumed to be the case at Casa Maya. Silly me, making an assum of ed. Now, a good server, upon presenting us with the two sided brunch/lunch menu, would have told us, "Oh, by the way folks, the lunch menu is not available today. On Saturdays and Sundays you can order only from the brunch or dinner menus." That's all it would have taken, and I would have made a more economical choice. That's what a good server would have done. But then there are the servers at Casa Maya.
Casa Maya is a schlep to get to, the food is only so-so, and they'll rip you off. There are better Mexican restaurants in mid-Westchester. (Santa Fe, save me a seat.)
Addendum: I took what remained of my fajitas home with me as leftovers. As mentioned in the main review, my meal was made up of three plates: A plate with the remaining chicken, onions, and peppers; a plate with the rice, beans, guac, etc.; and a plate with the tortillas. I gestured to all three when I asked the waiter to wrap up my meal. On Sunday afternoon, hungry and wanting to get my money's worth, I went to my refrigerator to retrive the brown paper bag that contained my leftovers. Upon opening it, I discovered one container, inside of which were the slopped together remains of the chicken, beans, guac, rice, peppers, and onions. What I also discovered was that they had not given me my remaining tortillas. Why would I want my chicken fajitas wrapped to go without the tortillas?
**This is a dramatization of actual events. There was no violence nor any destruction of property from Shelley. The dramatization is meant solely to imply that Shelley left feeling very angry about the events that had transpired.